2016 ANNUAL MEETING PRESENTATION
As promised, click to link and view the
Annual Meeting Power Point presentation
.
GOOGLE STREET VIEW PHOTO SHOOT – 
This Coming Sunday
The Google Street View photo shoot takes place this coming Sunday, June 12th.  Professional photos of our church will be taken by a local photographer.
Please attend worship and bring family and friends to give us that "full and friendly church" look.  This effort by as many as possible will go a very long way to show off our church publicly as a great place of worship.  It will provide us with a set of custom professional photos for website and brochure use.  As a bonus, it will also be used for Google Street View's virtual tours inside of the many buildings seen in Street View.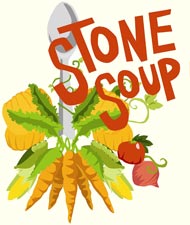 If you are camera shy, you can still worship on June 12th.  We will be sure to give a cue at the right time for those who don't want to be in the picture.  Let's make this an event to remember always! Click to link and read the complete text of the permission being granted.  
PHOTO PERMISSION TEXT
STONE SOUP for JUNE
An ingredients list for Spanish rice, Chicken and Cornbread has been posted for June's Stone Soup meal which will be prepared on Monday, June 13th at 6 p.m.  The sign-up sheet is next to the nursery.  Please contact Jennie Boswell if you have any questions.  Monetary donations are also accepted.
Summer Worship Time is 9:30 a.m.:  Union worship services with the West Avon Congregational Church will be held at West Avon Congregational Church in July.  August worship will be at Avon Congregational Church.
Office Hours:  During the months of July and August the Avon Congregational Church office will be open Tuesday and Thursday, 9:00 a.m.-12:00 p.m. The office will be closed Monday, Wednesday and Friday. Please feel free to leave a voice mail message or send an email; we will respond as soon as possible.
VINYASA and VEGETABLES


Betsy Van Loon is teaching yoga at the Community Farm of Simsbury from 6 to 7 p.m. on Mondays July 11, 18 and 25.  Free will donations are welcome and will support the farm and Gifts of Love.  Stretch with the squash!  Twist with the tomatoes!
LIFE LINE SCREENING at Avon Congregational Church
Life Line Screening, a leading provider of community-based preventive health screenings, will offer their affordable, non-invasive and painless health screenings at Avon Congregational Church on July 12, 2016 in Fellowship Hall.  Five screenings will be offered that scan for potential health problems related to:  blocked arteries which is a leading cause of stroke; abdominal aortic aneurysms which can lead to a ruptured aorta; hardening of the arteries in the legs which is a strong predictor of heart disease; atrial fibrillation or irregular heart beat which is closely tied to stroke risk; and a bone density screening, for men and women, used to assess the risk of osteoporosis.  Register for a Wellness Package which includes 4 vascular tests and osteoporosis screening from $149 ($139 with our member discount).  All five screenings take 60 – 90 minutes to complete.